• Boho Wedding • festival wedding • festival weddings • gay wedding • our wedding day • quirky weddings • rock festival wedding • rock n roll wedding • rock wedding • rock your wedding • wedding • wedding accessories • wedding favour • wedding favours • Wedding gift • wedding wristbands • Wedding-day • weddingday • wedfest • Wedfest Wristband • Wedfest Wristbands • Wedrock • wedstock
If you are planning an awesome festival wedding and need some equally awesome wedding party favours then look no further than our newest addition to the wedding festival wristbands 'Our Wedding Day'.
---
• belfast pride • civil partnership • equal marriage • gay • gay marriage • gay pride • gay wedding • Hen Party • Hen Party Accessories • lesbian • lgbt • lgbtq • lgbtqa • marriage • pride • pride 2020 • pride accessories • same sex • same sex marriage • same-sex marriage northern ireland • Wristband • wristbands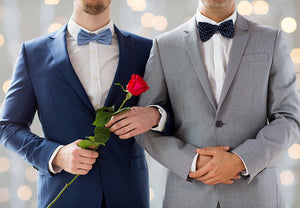 Same-sex marriage now legal in Northern Ireland This month January 2020, same-sex marriage was legally recognised in Northern Ireland. Couples have 28 days to submit their intention to marry so the first same-sex marriages will take place in early February.  What's the difference between Civil Partnership and Marriage? Civil Partnerships have been available to same sex couples since the UK Government introduced them back in 2005. However, in the eyes of the law, same-sex couples could not be recognised as being 'married'. Same-sex marriage was legalised in England and Wales back in 2014 but as marriage was a devolved matter,...