• Bachelorette • Bachelorette Party • Bride Tribe • Bridesmaid • favor • hen • Hen Do • Hen Party • Hen Party Accessories • HENFEST • pink • Team Bride • team hen • team hen party • The Bride • wedfest • white • wristbands
Team Hen Wristbands We have been designing hen party wristbands for some time now. We never stop creating new designs for our hens to enjoy. We have as you know Bride Tribe Wristbands, Team Bride Wristbands, Team Groom Wristbands etc etc….and now we have all new Team Hen Wristbands! Channel Your Inner Princess on your Hen Party We think they will fit perfectly into any Hen Party or any Hen Party theme. Talking of themes we think there is something quite 'Princess' looking about them so these would be perfect for those of you who love all things girly and all you gorgeous Bride...
---
• favor • favour • festival • festival wedding • festival weddings • our wedding day • wedding • wedding favours • wedfest • wedstock • wristbands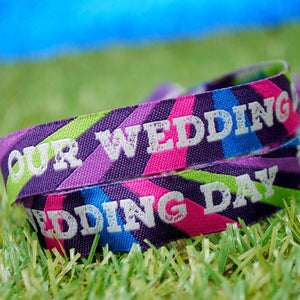 Festival Wedding Wristbands - The Perfect Wedding Favour for your Festival Wedding! We have a number of festival wristbands designed specifically for Brides & Grooms who want to bring the festival theme to their wedding but don't have a guest list large enough to justify the expense of getting customised wristbands made. As there is a minimum order number to get custom wristbands made up these generic wedding wristbands are perfect for couples with smaller weddings or even those who want wedding wristbands but at a lower cost. These festival wristband favours are a brilliant way to make your wedding stand out...