• 50 • 50 FEST • 50fest • 50th • 50th Birthday • birthday • birthday party • Birthday Party Favors • Birthday Party Favours • birthdayfest • favour • Festival Birthday • Festival Wristband • Festival Wristbands • fiftieth birthday • FIFTY • FIFTY FEST • Party Favor • Party Favors • Party Favours • Wristband • wristbands
Fifty Fest 50th Birthday Party Wristband Favours Turning 50 is a major milestone in life and for major milestones we believe in throwing major parties!!! And turning 50 is a major reason to throw a major party and we have the perfect party favour for your guests!! We are pleased to introduce our fabulous festival style FIFTY FEST 50th Birthday Party Wristbands. We are very aware that it isn't just our generation that love going to gigs and festivals, nor did we make it cool or invent rock n roll. If you turn 50 this year we know that your generation was...
---
• favor • favour • festival • festival wedding • festival weddings • our wedding day • wedding • wedding favours • wedfest • wedstock • wristbands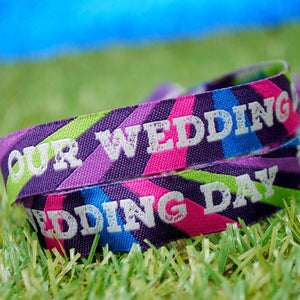 Festival Wedding Wristbands - The Perfect Wedding Favour for your Festival Wedding! We have a number of festival wristbands designed specifically for Brides & Grooms who want to bring the festival theme to their wedding but don't have a guest list large enough to justify the expense of getting customised wristbands made. As there is a minimum order number to get custom wristbands made up these generic wedding wristbands are perfect for couples with smaller weddings or even those who want wedding wristbands but at a lower cost. These festival wristband favours are a brilliant way to make your wedding stand out...